Vivien Valentine's Day Hairstyle Recommendations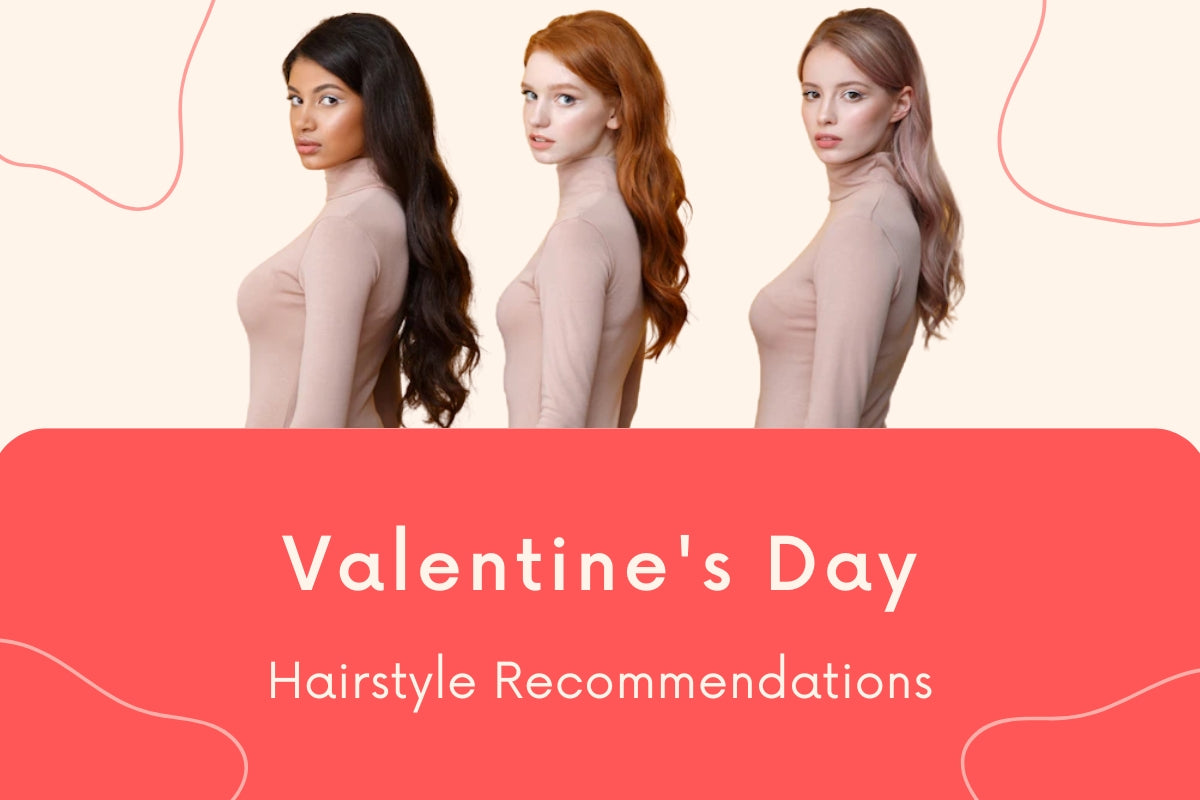 Vivien Valentine's Day Hairstyle Recommendations
Whether you're celebrating Valentine's Day with your partner for life, current fling, your BFF, or happily by yourself, one thing's for sure—you want to look and feel your hottest. This could mean that your go-to gym ponytail hairstyle has got to take a backseat for the evening (don't freak out, you can do it!). And while you might already have your makeup look nailed down and your outfit ready to go, switching up your hairstyle can sometimes take up a lot of time, trial and error, and can be super frustrating if you're planning to DIY. If you've ever had a screaming match with your tangled hair rollers, we totally feel you.
In the spirit of celebrating you and how gorgeous you're going to look this Valentine's Day, we've rounded up 16 easy Valentine's Day hairstyles (some fun, some flirty, some romantic, and some bold), that are great inspo for your Valentine's Day hair look, no matter what your vibe is.
1. Slouchy and fluffy hairstyle
Nothing spells romance like a wispy, face-framing updo. Add a set of piecey, eyebrow-grazing bangs into the mix and you've got a recipe for date-night perfection. Gather your hair in a low ponytail, and pull out longer layers in the front and sides of your hairline before you secure it. Twist your hair into a messy bun and fluff up your bangs, raking them slightly to one side with your fingers. This look pairs best with a sultry, smoky eye.
2. Sleek, Straight Strands
Middle part mainstream once again, and now that it's back, we're never letting it go. This sleek straight hairstyle focuses on showing off major shine without drawing attention away from your gorgeous features. Part your hair in the center with the tail of a styling comb. Spritz hair with a smoothing heat protectant , and blow dry with a round boar bristle brush to amp up the shine. The best part about this look? It works for both long hair and short hair too.
3. Surprise Twist
The unicorn twist at the very tail-end of this gorgeous blowout is nothing short of magical. If you're looking for a way to wear your hair down and keep it out of your face, this is it. Gather your ends and create a tight twist or braid, securing it at the top, middle, and ends with bobby pins. Add a clear elastic and the end. Tug gently at the hair in between the pins to create extra fluff. Spritz with a texturizing hairspray to lock your look in place.
4.Woke-Up-Like-This Waves
Looking for a style that takes just minutes in front of the mirror, no curling iron or flat iron needed? Cue boho-bedhead bends that are flirty, fuss-free, and way too pretty not to try. The best part? You don't even need a curling wand. Once you're done blow drying, part your down the middle and secure it into two loose braids. Before you're ready to head out the door, unravel, tousle and spritz with a texturizing spray for sexy waves that are sure to stun. This look works wonders on short hairstyles too!
5. Lovely Low Bun
There's something about a low chignon that has V-day written all over it. Dress yours up for date night by leaving some face-framing layers out in front and topping it off with a printed silk scrunchie .
6. Think Pink
It's no secret that punchy, pastel-pink hair color is popping up everywhere. So if you're in the mood for a little color play, there's no better time than Valentine's Day to play with pink. This fruity pink hue "Flamingo Barbie," and we're totally game to try it. Ask your colorist to keep your roots darker to add depth and dimension to your look. Not ready to fully commit? Try some pastel hair extensions instead.
7. French-Inspired Fringe
These loose, textured waves paired with choppy, imperfect bangs make us feel like we're getting ready for a romantic rendezvous in Paris. The trick here? Give your bangs just as much movement and texture as your waves. Red lip not included, but highly recommended.
8. Butterfly Clips
With '90s-beauty nostalgia dominating 2022, it's no surprise that these forever-trendy butterfly clips have secured a spot in 2023. For flirty, girl-next-door vibes, create a straight center part and pop some of these colorful hair clips into a few face-framing strands.
9. Flirty Five-Strand Braid
Fan of the fishtail braid? Kick it up a notch by adding a few extra plaits. This wispy five-strand braid (aka Dutch braid) is giving serious mermaid vibes and creating the look of having thick hair, even if your strands are on the finer side. What we love about this look is that it works for all hair types and textures. Need a visual? Here's a quick step-by-step how-to.
10. Clip It Up
Remember when claw clips were only meant for laundry days and casual coffee dates? Not anymore! The latest claw clip styles are beyond gorgeous and perfect for any occasion or date-night scenario. Toss your hair up with a pretty tortoise-shell printed clip and let some pieces of hair fall loosely around your face. The less pulled back and "perfect," the more romantic the look. Got slippery strands? Opt for a matte clip instead, to hold your hair in place for the long haul.
11. Wordy Barrettes
If you're feeling the love this V-day, (whether it's for yourself, your bestie, or a significant other), one of these adorable hair accessories is all you need to shout it from the rooftops
12. Barbie Bow
Because no Valentine's Day hair wrap-up would be complete without a bow moment, we're serving up one of our favorites. This Barbie-meets-Audrey Hepburn hairstyle makes for the perfect flirty, flippy date night hairdo. Style your hair into a high ponytail and top it off with a sleek black bow, headband, or hair ribbon à la Hailey Bieber. It's one of those easy-to-use hair accessories that wins every time.
You May Also Want To Read
1. How much does Hair Extensions Cost?
2. What is Injection Tape in Hair Extensions?
3. Which Hair Extensions Are Best For Thin Hair
4. 6 ways to repair damaged hair
---