What Is Handmade Hair Weft?
What Is Handmade Hair Weft?
Hand-weft is done manually and a kind of hair weave extension that is similar to machine weft in terms of its use and attaching method. Production time in hand weft is about 10 to 30 times compared to the machine-weft that is why it is more costly. Handmade wefts come in pieces of about 8 to 10 inches in width. When sewn in, they can be folded over to best fit the track.
The Advantage of Hand Tied Hair Weft.
The weft is flexible so it will not stick out or cause lumpy areas around the crown.  Since it is all hand-woven, it has good durability. High-quality hand wefts may last longer with no shedding when they are installed by a hair extension professional. But extra care should be done because cutting the tract could destroy the whole line.
The wefts are hand-sewn which creates a strong, thin weft when compared to other methods of application. They are flat, flexible, and lay close to the clients' scalp giving a more natural look without feeling bulky. Additionally, this makes them more comfortable to wear and touch. They resemble the final look of tape-in extensions and consist of a full, blunt perimeter; never stringy or sparse.
The hair extensions are 100% Remy human hair, so they can be washed, dyed, straightened, and curled with heating tools.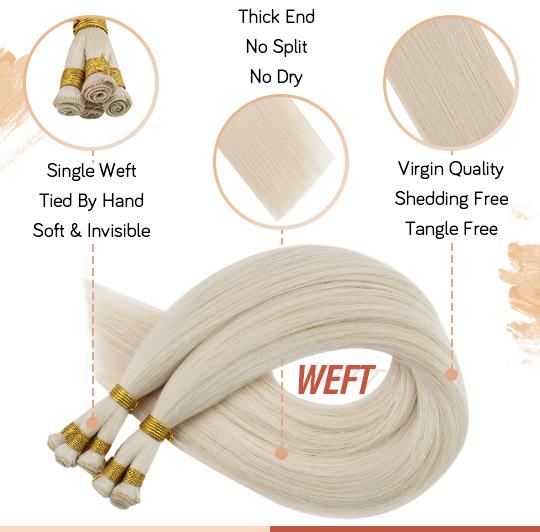 What Is Machine Hair Weft?
Machine weft extensions are a collection of hair sewn together by a machine. The wefts themselves are thicker and weigh a bit more. Machine wefts can be cut because of how they are made-- making them more durable and sturdier.
The Different Between Hand Tied Hair Weft and Machine Hair Weft
Natural appearance and volume
Less undetectable and comfortable
Reduces the bump
Not very bulky or noticeable when you put long-lasting
Very suitable for people with thin hair  
Thicker hair wefts
Can be cut to desire length
Less invisible than handmade hair weft
How to Apply Hand Tied Hair Weft?
Beads rows applied using large or X-large silicone micro rings. The track is chained together by pulling 1/2 of the previous bead hair through the next bead.
In the nape, area beads can be individual, but chaining together is more secure.
Apply the same chain row application on both sides of the head, ending at the nape.
Sew wefts to the chain using a blanket stitch. This row has 2 wefts. You can sew on up to 4 wefts at the same time.
Depending on how long the row is it will usually come up short on the opposite side. Now we will take the second set of 2 wefts and apply them on the left side going in the opposite direction. This gives you 4 rows of wefts in the back but 2 rows on either side. This perfect for most applications.
FAQ:
1. How many times a week should we wash our hair?
No more tahm third a week if you use traditional shampoos (do not use shampoo contains sulfate or alcohol).
2.How long does it last?
It depends on how you maintain it. Treat it like your own hair and take a good care, normally it can last loner than 6-12 months.
3.Can I dye/color the hair?
Yes, the hair can be colored. As a general rule it is easier to darken the hair than to lighten the hair. We recommended dying darker.
---