10 Summer GO-TO Hairstyle
10 Summer GO-TO Hairstyle
Changing your look is as easy as putting on a hair wig. If you don't already have summer inspiration for your go-to hairstyle, read on for our 12 easy hairstyles for you.
It can be done easily without taking up too much time.
1.Top Knot Bun
A quick and easy hairstyle you can do in the summer is the top knot bun. It's a super easy look with one quick step, a few bobby pins and you've got the perfect bun. You can use your natural hair for the look or use our ponytail.
2.Braid Updo Style
This half-done style enhances your overall look and goes well with any summer outfit. It is the perfect hairstyle for weddings and any outdoor party.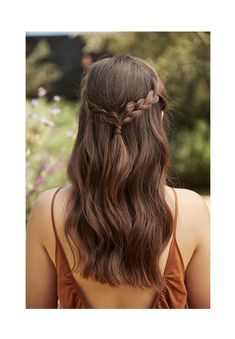 3.
Bubble Pigtail
Looking plain on pigtail braids? Try making some small changes! The bubble pigtail adds a slight twist to the base, but it's very different! It's perfect for fashion icons who don't have time to style their hair and can have a perfect and stylish look in just a few minutes!
4.Claw Clip Updo
The most popular fashion hair accessory in the last two years must be the grab clip. This is really very versatile, you can use it to make a variety of looks. Just like the semi-tucked hair, it's a very simple and effortless look that doesn't take a minute.
5.High ponytail braid
Wow, this is definitely one of my favorite looks! No matter what the occasion or what kind of ensemble, this hairstyle can be perfectly handled. I would recommend using some gel to make the baby hair more flatter, it will make the whole look more clean.
One tip: cross it with two leather bands and it will stay on all day!

6.One side braid wavy hair
Tired of tying your hair up or worried about exposing too much of your hairline? Simple and individual wavy hair is the hairstyle for you! Simply curl your hair with a curling iron and braid one side of your hair. It's best to braid it close to your scalp so that it not only stays in place all day, but also doesn't fall out again baby hair, put on your sunglasses, cool girl!
7.Low Bun

A low bun can be perfect to help with frizzy/runny hair when you wear a bowler hat. Low buns are also great for dating. It will set you off very elegantly, if paired with your dress. Oh perfect for the day. And of course the bobboy pin is essential to help keep your hair in place!


8.Top Braid
A great look for parties, music festivals and everything in between! Your face won't be blocked by your hair, and you won't be affected by it when you're having fun dancing, just be bold! If you have a friend who can help you braid it even better, if not, hold it up to the mirror, just make sure it doesn't fall apart!

9.Twist and Updo Braid Hair
It's a boho braid, quick and easy, and you can do it yourself in 5 minutes! The first step is to tie up the top part of your hair, suggesting a parting line from above your ears. In the second part, divide the tied up hair into two parts, twist them each outward and gather them together.

10.Twisted Buns
I think this hairstyle would be perfect if you have a work occasion that requires you to wear formal wear. You'll need two Bobby pins and that's all the tools. It's hard to describe clearly through words, so I'll have a video ready soon to show you how it's done!
---