Sew in Hair Extensions Jet Balck Virgin Hair Weft Bundles Weave Real Human Hair For Women #1
| | |
| --- | --- |
| Raw Material | 100% Virgin Human Hair |
| Length | 14"-22" |
| Color | #1 Jet Black |
| Weight | 50g/Pack. 3-4 Packs For Full Head |
| Texture | Silky Straight |
Advantages of Sew in Hair Weft
Reusable
No damage to your hair
Suitable for thin/fine hair
Fast and easy application method
No heat or tools required to apply them
Virtually undetectable panels lay flat on the head

The number of donors differs

Cuticle's state is not the same

The difference in lifespan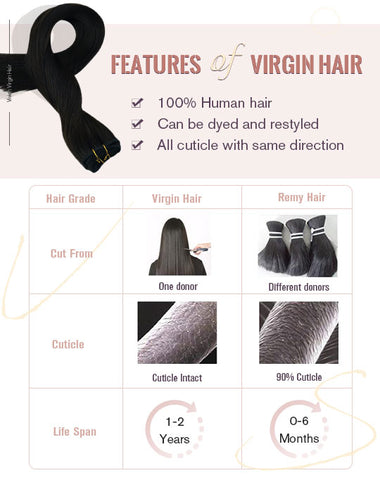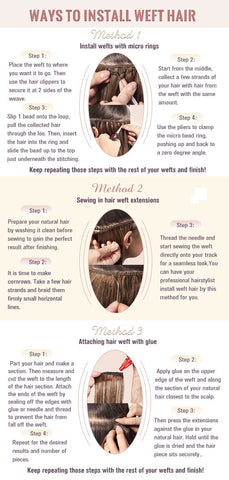 What kind of shampoo to use?


What kind of conditioner to use?


How to brush your hair extensions?


Which tools are good to apply for hair extensions?


I cannot believe how well this hair blends with my hair! I have grown out balayage highlights and this matches so perfect. I ordered the 16 Inch Hair Extensions Chocolate Brown to Honey Blonde. I am learning how to them in correctly but I think it will just take practice.
Buy these! They are awesome!!!! I have always had fine, thin hair that doesn grow much past my shoulders without looking wispy. I bought these on a whim and they are perfect!The color match is spot on and they blend beautifully when curled. Now my hair has a little extra oomph and I can rock a longer look.I especially love the price as Ie been wanting to try a extension but didn want to invest unless I knew I would like them. They are a little on the thinner side which is perfect for me since my hair is thin to begin with- looks super natural! I would say if your hair is thick, you should buy two of these sets if youe using these for added length and not just volume. :)
I just got these in the mail today! They came so fast. The color match is literally perfect. I trimmed them a bit, and then styled them following the directions. They curled so well for not being washed yet! They are amazing and similar to the $600 ones I tried on at the salon. I am so impressed. I attached a before and after picture. I am still learning how to use a , and find the right placement but I so excited!
I love that it fits perfect and blends beautifully with the color of my hair. I love the goo-goo hair extensions they are the best thing I have ordered that he has to deal with her and definitely will be buying more of it good quality for a good price It fits perfectly and is the perfect length for me matches my hair perfect no problems or anything I recommend us very highly they should be bought by many people This is not a waste of your money people you will not regret it This is 100% where is your money guarantee yet not always buy yours now This is the best thing I have ever spent my money on and I do not regret it at all it is awesome I bought my granddaughter one and she loves it too very recommended It is an easy put in no difficulty the string band hides in your hair isn shown might need bobby pins or hairsprayTo keep in place of going anywhere and doing a lot Best hair product there is. I also love that you can get it in many different colors this is the best it is also very soft and silky but after a while if you put heat on it like a flat iron ore curling it it will damage the hair a little bit but that why you should at least wash it once or twice a week and use shampoo n conditioner it helps a lot and will keep the hair at its natural balance hundred percent Remy human hair extensions if you have big hair we recommend 1 to 2 packs to increase way into three packs to increase length if you have been here I recommend two and three packs to increase weight and 1 to 2 packs to increase link more healthier scientific research shows that leaving an extension in the same place for a laundry can create stress on the hair and scalp our breakthrough hair extensions don have blue someone or other have your application message later and comfortable to wear go go extensions is healthier for the scalp and hairAlso the hair extensions cannot stay still if you put the weather too far behind this wall so cause I sure feeling well aware and be sure that the wire is not to lose Natalie today if you aren sure give your head a little shake the wire should be totally secure make sure the back of the list slip and he doesn want to load behind make your own hair cover the finishing line and comb it neatly be sure to be extra gentle and call me to your house so that you don snag the lawyer or actually move the hell out of place accidentally make the s to fix her hair release the top section of your hair gently tells the blend your natural hair and extensions that starting experimenting with new hairstyles now love it love it love it love it
I love my new ! I got my hair highlighted and cut to match and blend in and it so easy!I love how soft the hair is. It holds a curl nicely and doesn tangle up. This exceeded my expectations. It is so comfortable all day long. I like the added s for feeling secure. Wire blends nice and doesn pinch of hurt. I would highly recommend
         Shipping & Delivery

✈ We ship Monday-Friday before 11:00 am PST via DHL, FedEx, CNE, and USPS
✈ 3-6 Business Days for EXPEDITED SHIPPING, 7-15 Business Days for Normal Delivery Company to Arrive.
To see more shipping policies, please click: Shipping & Delivery
                        Return & Exchange

We accept the return of products. Customers have the right to apply for a return within 30 days after delivery of the product.
To be eligible for a return, your item must be unused(without washing and undamaged, with no impact on secondary sales)and in the same condition that you received it. It must also be in the original packaging.

To complete your return, we require a receipt or proof of purchase. Please ask our customer service before returning the product to make sure you send the package to the correct address.
When you order hair online, you might have chosen the wrong hair, wrong length, color don't match, size not fit, etc. It's never a problem to exchange the right hair as long as you contact us in time. Our return policy ensures that both parties feel fair and satisfied during the exchange process.

To see more shipping policies, please click: Return & Exchange Policy