[Pre-sale]Tape in Hair Extensions Reddish Brown Blonde Real Human Virgin Hair Extensions#33
Size chart
Length Guide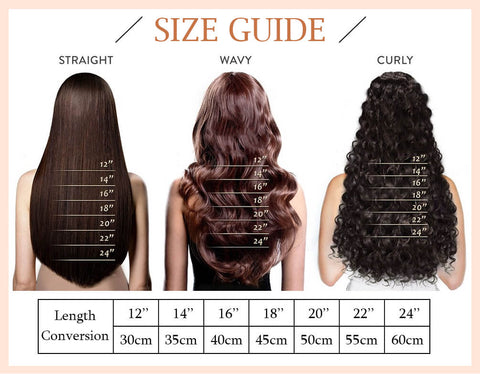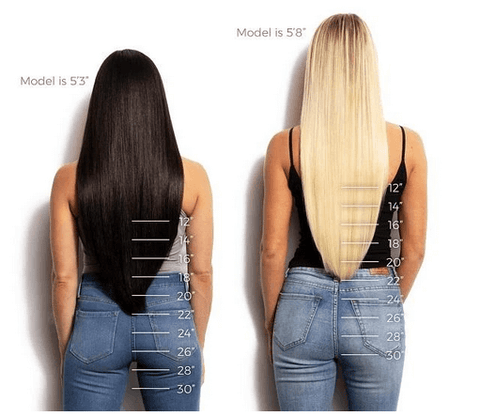 Regular price
$447.99
Sale price
$54.99
/
2.5g / Piece | bout 150-200g for a full head.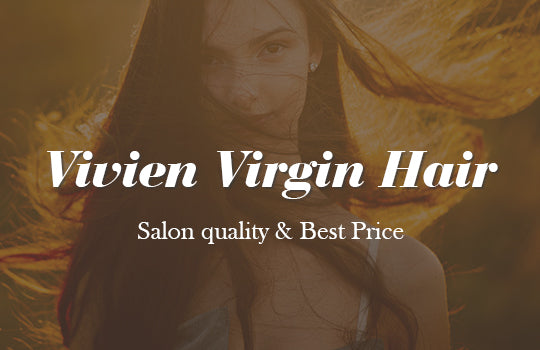 The tape-in method creates a seamless blend with the natural hair, giving a full and voluminous effect that can be styled in various ways. The virgin hair's natural texture and color add depth and dimension to the overall hairstyle, creating a stunning, head-turning look. There is a more
invisible injection tape in hair
that you may also like.
Material: 100% Brazilian Virgin Tape In Human Hair
Weight: 2.5g per piece, 10 pieces per pack, 25g hairs in total, 4-8 packs recommended for a full look.
Color: #33

Tapes: Strong, safe, small, and invisible PU tapes.
Details of hair : Tape size: 0.8cm * 4cm
Texture: Straight, and a natural wave after washing is normal.
Virgin hair is the epitome of natural beauty - it is unprocessed, chemical-free human hair that is truly pure. This means that when you purchase virgin hair, you are getting hair that has not undergone any kind of chemical treatment. It has not been permed, colored, dyed, bleached, blow-dried or subjected to any other chemical process that can harm its natural texture and shine.
What makes virgin hair even more special is that it is sourced from a single donor. Each bundle of virgin hair that you purchase should come from the same donor, who could be from India, Malaysia, Brazil or any other region of the world. This means that the hair has not been exposed to any harsh agents or chemicals, and its cuticles are all intact and running in the same direction.
Choosing virgin hair is a way to embrace your natural beauty and enhance your unique style. With its pure, unprocessed nature and exceptional quality, virgin hair is the perfect choice for anyone who wants to look and feel their best. So why settle for anything less? Choose virgin hair and experience the beauty and luxury that only nature can provide.
Our hair bundles are sourced from a single donor, ensuring that you receive the same high-quality hair throughout the bundle for a consistent and stunning look.
We only use the finest, rarest raw materials for our virgin hair, resulting in a luxurious and high-quality product that you won't find anywhere else.
With our hair, you'll never have to worry about the cuticle being damaged or misaligned - we take great care to ensure that it remains completely intact, ensuring a longer-lasting and more beautiful result.
Unlike other hair products that have been subjected to harsh chemicals and treatments, our hair has never been manipulated in any way, so you can trust that it is healthy and vibrant.
Whether your hair is curly, straight, or somewhere in between, our hair blends seamlessly with most hair types for a natural and effortless look that will leave you feeling confident and beautiful.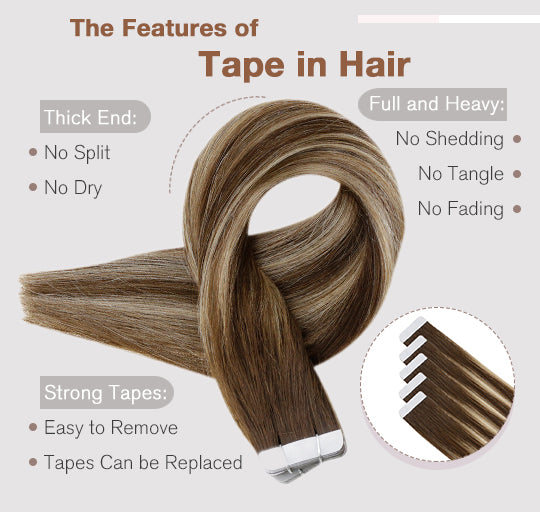 Why Choose Vivien Tape in Hair?
A Fast Application
The great thing about tape-in hair extensions is that they are quick and easy to apply. Professional hair extensions can be completed in 20-60 days.
Naturally invisible
Tape in hair extensions are so natural and invisible that you won't know you're wearing tape in hair until you lift your hair. as having a lovely texture and shine.
Comfortable to Wear
If you wear extensions for long periods of time every day, Tape in hair is perfect for you, as each piece is designed to be light enough not to pull on your hair. This means that people with thinning hair will have no problem using it.
No damage
Tape in hair uses a very strong adhesive, but they are professionally made and removed with a professional removal product that will not damage your hair at all.
Cheap and convenient
Tape in hair is the cheapest type of semi-permanent hair extensions, eliminating the hassle of repeated installations and removals. They can be styled as you like, just like your own hair.
They Are Reusable
With good hair care, Tape in hair is completely reusable. After the hair has grown for a period of time, Tape in hair can be removed and re-installed using replacement tapes.
How To Wear And Remove Tape In Hair?
Do not use tape near the hairline

Do the "SANDWICH" method for fluffier

Leave some space between tape and scalp
Before wear: Wash your own hair and blow dry.
Don't use conditioner.
During Wear: Sandwich is the best way.
After wear: Don't wash your hair in 48 hours.
Suggest to replace tape once a month.
Use clean and mild water

Air dry is best to the extensions


Gentle massage is best, do not pull


Conditioner is necessary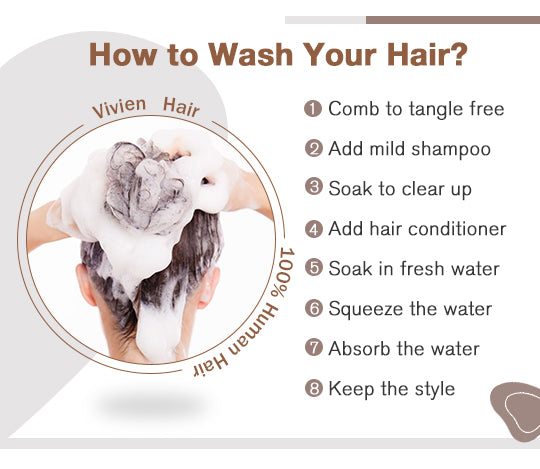 How to brush it?

Can I wear it to sleep?

How to dry hair extensions?

What kind of shampoo should I use?
Orders are usually shipped within 1-2 days after placement.
Expedited shipping usually takes 3-6 business days, and standard shipping takes approximately 7-20 business days.
Delivery time is somewhat related to distance and other factors such as epidemic, weather, etc. There may be a delay of 1-2 days.
For the complete shipping policy, please see the relevant page Shipping-Delivery
Please ensure that the hair has not been used and that you have communicated with us about the return or exchange before returning the product.
For complete return and exchange policy, please see the relevant page Return & Exchange